New EDA Version 1.6
We already have a new version of EDA with us. And, as usual, it comes with a lot of interesting news.
I will give you a short summary:
New graphic: Sunburst.
New data source: Now we are able to read and make reports from webservices !!!!
A lot of small changes aimed at improving usability and that have come from the hand of our users:

Ability to «save how» a report.
New and more intuitive texts.
Improvements in managing the sharing of reports.
Improvements in the text editor.
Possibility to reload reports and refresh data.

We have a report dispatch planner. Your report in your email whenever you want.
We have incorporated a style editor for the reports
If you want to make a sensational report now you can !!!!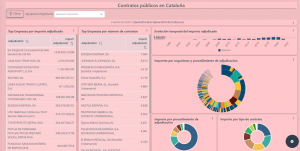 Do you want to try it? Now it's easier than ever….
Contact us and we will tell you in detail all its benefits and how it can help you.
Take a look at the demo
Try the docker : docker run -p 80:80 jortilles/eda:latest
Download the code and enjoy, it's on Github
Are you a Windows user? We have left a package on SourceForge